The Adventures of Manboy and Boyman
Friday, for the most part, is like Monday here at the BBCC, so everyone arrives fresh from a couple of days rest to set upon the roaster with an appetite for change. That being said, the early part of this morning's shift was dedicated to the rearranging of our storage space. What a fruitful task indeed as all the strapping lads got involved in solving our space crisis. To celebrate, we ate roasted chicken from one of the Ferry Plaza greats,
Mistral
Rotisserie Provencale.
We also had a visit from Jody (sp?) from
Swiss Water
who gave us some excellent literature to go along with our
Decaf Noir
.
And good news team, if all goes well, BBC will be pouring some experimental shots in our coming-soon-to-Hayes-Valley location next Tuesday! Keep your fingers crossed!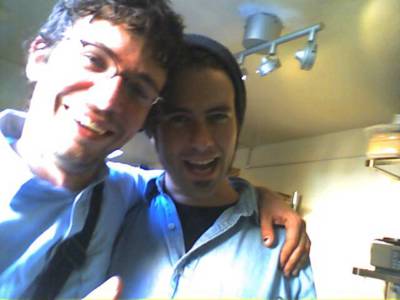 Manboy and Boyman (l-r)
P.S.! You go away for a couple of days and someone just has to start writing about your coffee! And I thought James was wordy! Thanks to
bccy
for their interest and estimations.